What do crane operators do?
Cranes play a massive role in New Zealand's construction sector. By becoming a crane operator you'll play a direct role in building up New Zealand's infrastructure. Whether it's lifting structures into place, moving heavy loads, or unloading containers from trucks – wherever there is development, there is a need for skilled crane operators.
Crane operators use cranes to move large, heavy objects. This can include materials on construction sites, containers on wharves, and heavy parts in factories.
There's lots of coordination and communication on the job – you're not the only one on the job! Whether you're operating the crane itself or you're on the ground directing the crane, it's all about the team working together effectively.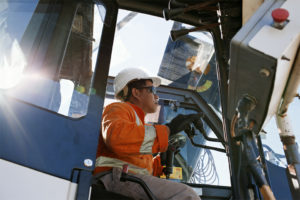 On any given day you could be:
Driving mobile cranes to and from work sites
Lifting loads using a crane
Slinging loads for a crane to lift
Checking that the crane is set up correctly and securely
Checking the crane's water, fuel, and oil levels, as well as its other mechanical parts